Through a captivating array of children's emotions, from infectious laughter to profound sorrow, Rachel explores the depths of the human experience through children inviting viewers on a journey of self-discovery and emotional catharsis. This collection serves as a therapeutic tool showcasing the journey of facing fears and embracing healing. Experience the liberating power of emotional expression one painting at a time.
UNIFORM
UNIFORM highlights the themes of strength and fortitude in ourselves and our village. The confident and determined children in UNIFORM face challenges head-on. They are ready. They stand strong, in uniform, prepared to confront any conflict that intersects their journey. UNIFORM is a powerful reminder of the enduring strength of children and the healing power of art. I hope you can gain new perspectives, and find a sense of purpose and meaning in each painting.
HEAL ME
HEAL ME depicts children displaying various emotions ranging from happiness to sadness. The main theme is healing and resilience, with each child representing a healing verb. The paintings aim to convey a sense of hope and inspire viewers to persevere through difficult times. This collection is a powerful representation of the human experience and the importance of finding strength and healing in the face of adversity.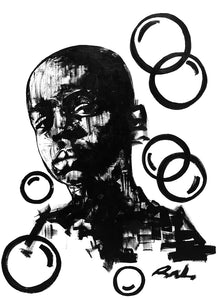 GO TO THERAPY
Going to therapy lead to the birth of both series. Talking through my thoughts and feelings with my therapist activated my creativity and ignited new ideas. With new sessions, new concepts emerged, leading to a series of paintings that express my emotions and experiences. It has been incredibly transformative, and something I am so grateful for. This series is a testament to the power of therapy and the positive impact it can have. GO TO THERAPY. Embrace the opportunity to invest in your mental health and overall well-being, because you deserve to thrive.
To my therapist, I want to express my deepest gratitude. Your commitment to healing and holding space for me is truly invaluable. You have helped me navigate some of the most challenging moments in my life. You have also provided a safe and non-judgmental space for me to explore my thoughts and feelings, and have shown me that healing is possible. So, from the bottom of my heart, thank you for your dedication, compassion, and expertise. I feel incredibly lucky to have you.
THERAPY RESOURCES